The organic hotel near Meran: theiner's garten
Your organic hotel near Meran
What makes a hotel an organic hotel? Casual luxury and comfort, gourmet indulgence, rooms and suites that meet the highest organic construction standards with noise insulation and no electronic smog. The most important factor is the sustainable enjoyment of the power of nature in all its forms, scents, and aromas.
The Demeter certification demonstrates that products and services are produced according to biodynamic and sustainable standards. Would you like to discover more? Ingo Theiner and his team would be glad to show you what biodynamic cultivation is all about on Bergerhof farm.
From nature. With nature. For nature.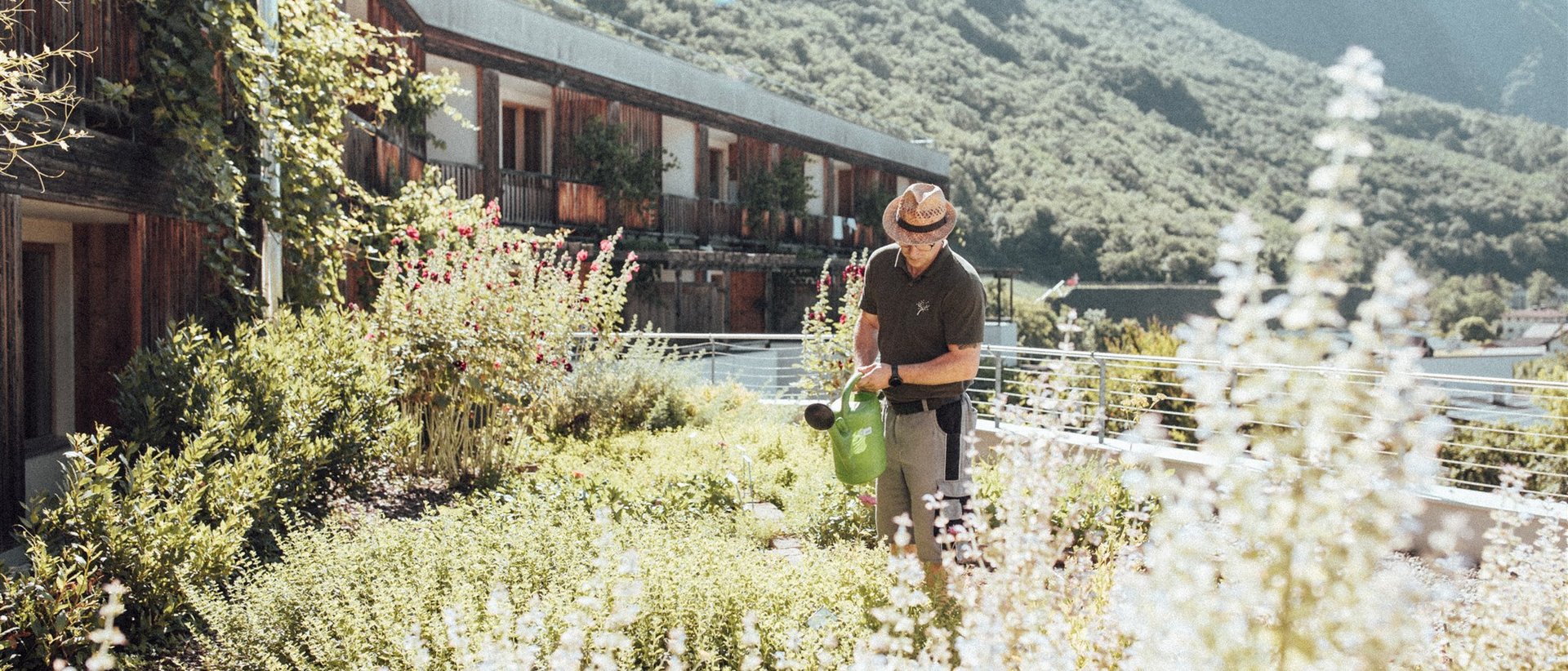 theiner's garten's certifications
Protecting nature and its treasures is more than just empty words here at theiner's garten: It's our life philosophy. The certifications that we have received spur us on to continue our efforts.
As the first certified ClimaHotel, theiner's garten guarantees the services of a 4-star S hotel together with a new, exclusive comfort: maximum relaxation with a minimal ecological footprint. For each guest we have an average consumption of approx. 5kg of CO2 per night. In a conventional hotel, the value is approx. 30–50kg. ClimaHotel theiner's garten stands out for its intelligent use of resources and a lifestyle that is in harmony with nature. We embrace local tradition and culture, always putting quality and services at the forefront.
theiner's garten was named the most climate-friendly hotel in the Alps in April 2019. ClimaHost is a competition awarding outstanding climate protection and energy efficiency measures in the hotel and gastronomy industries. The award was presented by German Federal Minister for the Environment Svenja Schulze and Austrian Federal Minister for Sustainability and Tourism Elisabeth Köstinger on the eve of the 15th Alpine Conference, held in the Hofburg in Innsbruck.
Jury's special prize, Mobility Award 2019
The project "Soft tourism with theiner's garten" impressed the jury of the Mobility Award 2019. Our goal: To make guests aware of sustainable mobility in a creative, innovative way. As well as the hotel advertising and promoting the use of bikes and public transport during holidays in South Tyrol, each guest receives a "ClimaCube" on departure. This is an award that makes it clear how many CO2 emissions have been saved in comparison with a stay in a conventional hotel. The South Tyrolean Mobility Award was introduced on the recommendation of the South Tyrolean Parliament and was awarded for the third time in 2019.