Looking for a bike hotel near Meran?
You've found it!
Meran and Environs is known as a paradise for all cycling enthusiasts – and for good reason. Between March and November, around 300 days of sunshine create ideal biking conditions. From theiner's garten, your bike hotel near Meran, you can look forward to flat cycle paths, steep mountain roads, and challenging trails. Head out the door, hop onto the saddle, and dive into cycling bliss. Ambitious sport lovers or beginners who want to take things easy will find everything they're looking for at theiner's garten, your bike hotel near Meran.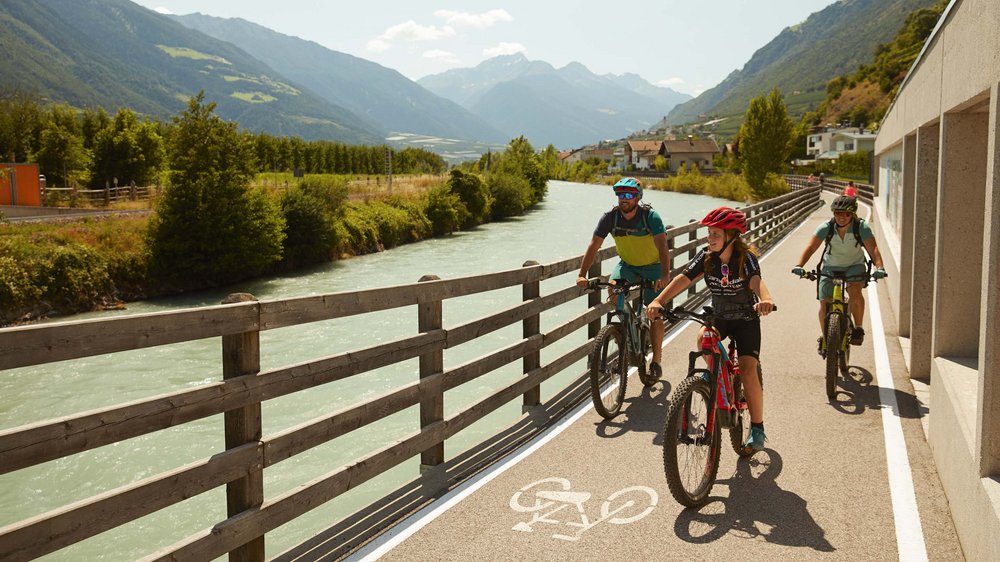 theiner's garten bike service
Bike room: Lockable. Here you'll find an air compressor and tools for small repairs, as well as an e-bike charging station.
Repairs: Anything you can't repair yourself will be fixed by the pros in the bike shop near the hotel.
Bike rental: City bikes, mountain bikes, e-bikes: You're sure to find the right two-wheeled companion here (for a fee).
Laundry service: For a fee
Advice: are you looking for the prettiest, steepest, or most leisurely tours? We'll be happy to help you with maps and tour tips!
Guided bike tours: Discover the best bike tours with the qualified bike guides of Bikeacademy Lana.
On your mountain bike between palms and glaciers
On one side, impressive mountain scenery; on the other, thrilling trails through thick forests with an exceptional variety of flora, from Alpine to Mediterranean: only Meran and Environs offers this striking combination! In addition, every mountain around Meran has different geomorphological characteristics. In short, that means you can look forward to a fantastic variety of tours, for all types of bike, at all levels of difficulty, all in the immediate vicinity of theiner's garten!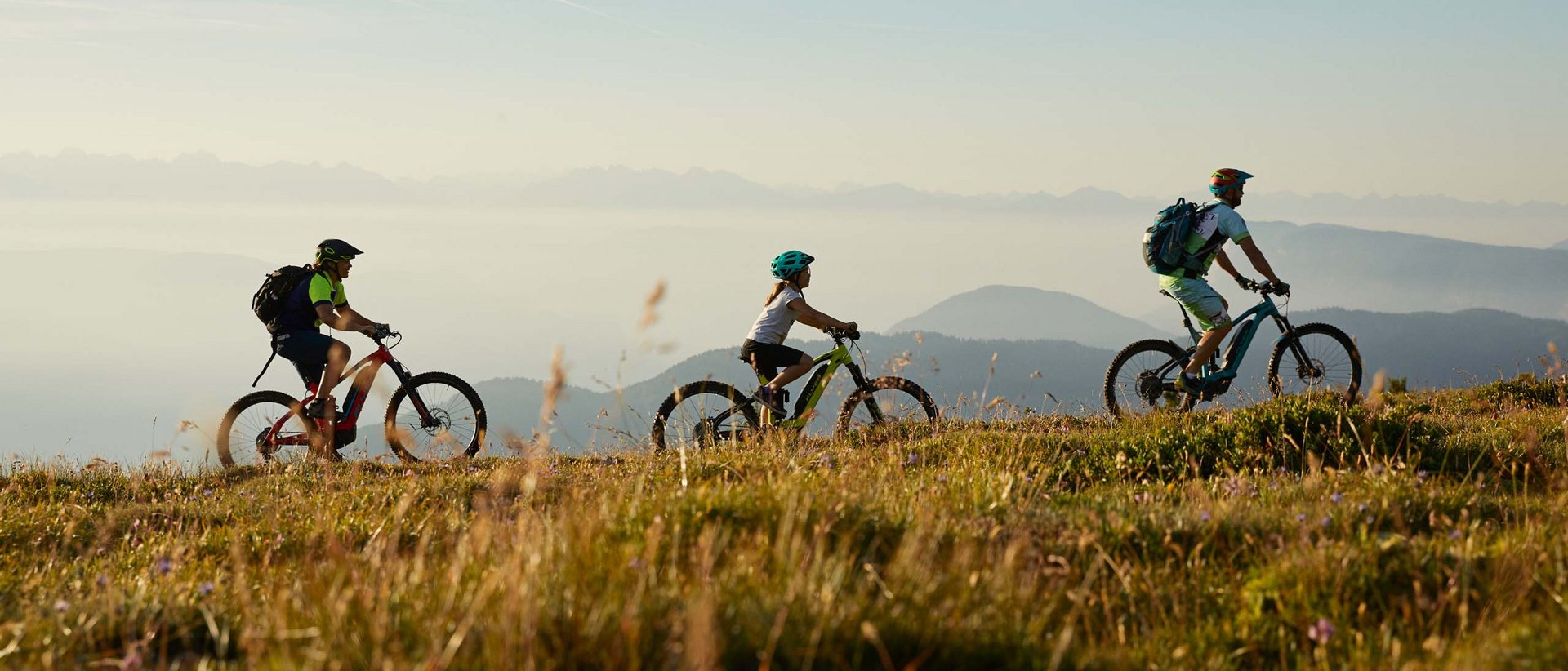 Unlimited e-bike enjoyment in South Tyrol
Everyone loves it: the e-bike. It's a gateway to new perspectives. Passes, Alpine routes, and longer tours that seem unsurmountable with the classic racing bike or mountain bike are a worthy adventure on an e-bike! Hop onto the saddle and set off to conquer South Tyrol – naturally wonderful.
Typical valleys and challenging Alpine passes are a magnet for amateur and professional cyclists. Among the itineraries offered by the area, a special mention goes to the "classic" Mendola-Palade tour, a path that every racing bike lover should complete at least once during a holiday at theiner's garten. We also highly recommend a visit to Val d'Ultimo/Ultental, an idyllic place with fairy-tale landscapes, charming farmhouses, and picturesque villages. Equally deserving is Val Passiria/Passeiertal. Finally, highly trained cyclists can choose to go on a day trip to Lake Garda or into the Dolomites.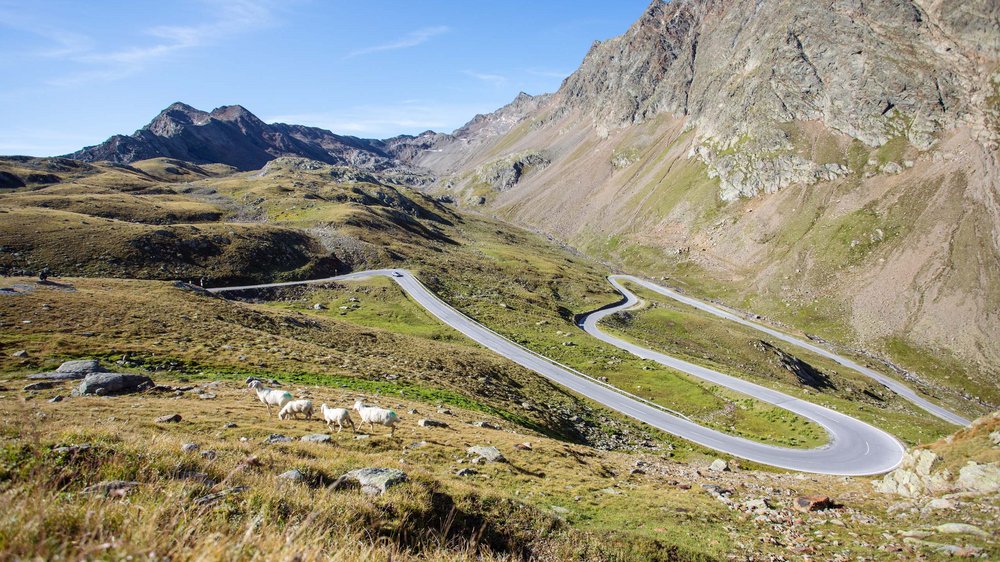 Where do the best tours start?
Why, at theiner's garten, of course! From here, you can take your racing bike to conquer Passo Rombo/Timmelsjoch, Monte Giovo/Jaufenpass, and Palade/Gampenpass, or enjoy a tour to Lake Garda – either by yourself or with the guides of Bikeacademy Lana (for an extra fee). Mountain bikers and electric MTB fans can revel in excitement and adrenaline in the nearby Val d'Ultimo/Ultental, in Meran 2000, on Monzoccolo/Tschögglberg, in Val Venosta/Vinschgau, or on Monte San Vigilio/Vigiljoch. To combine your passion for cycling with relaxing in nature, there is nothing better than a ride through the orchards in Valle Isarco/Eisacktal. Whatever your type of bike, we are always ready to assist you and provide you with all the necessary maps, accompanying you on your adventures through the Meran area.
Trekking/e-trekking
Follow the cycling path up to Meran, crossing the historical Sissi Park and climb the first metres of altitude before entering the distinctive Val Passiria/Passeiertal. Pedalling along the river, you come across several villages. After 30km, you reach your destination: St. Leonhard. This is where the valley divides: one path leads to the Passo Rombo/Timmelsjoch, while another takes you to the Monte Giovo/Jaufenpass, beloved by racing bike fans. After a stop in the hometown of Andreas Hofer, a Tyrolean freedom fighter, you can simply freewheel back out of the valley.
Trekking/e-trekking
From Gargazon, pedal through the apple orchards up to Nals (towards Bolzano). Here, a small climb begins leading to Andrian, a wine village. You can either return through the apple orchards or alternatively, you can follow the Wine Route or the cycling path along the Adige/Etsch river.
Mountain bike/e-MTB
From Gargazon, follow the cycle path up to Lana (towards Meran), before ascending the first three hundred metres of altitude on an upward trail. At this point, the so-called "Vorbichl" becomes your playground. Easy, S1-difficulty trails get everyone into the flow with short, sharp ascents. After a break in Tisens, head toward the destination of this tour: St. Hippolyt. In addition to the church, the setting for numerous weddings, it is the incredible panorama that catches your eye. You can admire 20 towns and villages and around 40 castles and ruins from here. Return to Lana along varied trails. Finally, take the cycling path (toward Bolzano) and return to Gargazon.
Variation: along Via Moso towards Tisens.
Mountain bike/e-MTB
Starting from Gargazon, follow the "Moosweg" (No. 18) path to Tisens. Pass the Hippolyt viewpoint and descend to the valley after the small Laghetto di Narano/Narauner Weiher lake. In the centre of Völlan, take the road to the Völlaner Badl. On the way back, cycle along the unpaved road or on easy trails (S1-S2) to Lana and back to Gargazon along the cycle path, passing through Burgstall.
Mountain bike/e-MTB
From theiner's garten, ride along a short stretch of the main road up to Burgstall. After passing the church, you will face the first 300 metres of altitude gain. The tour continues with ease: cycle along the slope on a hilly route, enjoying a magnificent view of Val dell'Adige/Etschtal and the entrance to Val Venosta/Vinschgau. Passing under Trauttmansdorff Gardens, take the main road again and then the cycling path back to your organic refuge. Tip: it's worth stopping at the Fragsburg waterfall. The last 100 metres of altitude are definitely worth the effort!
Monticolo/Montiggler lakes
Mountain bike/e-MTB
We set off from the train station in Sigmundskron. From here, continue on the cycle path along the former railway up toward Eppan (200 metres of altitude gain). Here, we follow the cycle path towards Kaltern and enjoy the panorama amidst the apple orchards and vineyards with a view of Lago di Caldaro/Kalterer See lake. Now we take the wide forest track to the large Monticolo/Montiggler lake and then continue to the small Monticolo/Montiggler lake. After that, we reach the highest point of the tour at approx. 500 metres above sea level. Here, we begin our descent to Girlan: We highly recommend stopping at the romantic fountain in the village square for an aperitif. The tour finally descends to Eppan before returning to Sigmundskron.
Mountain bike/e-MTB
This mountain bike tour with fantastic views takes you from theiner's garten, out through Burgstall, and up to Fragsburg Castle before continuing to South Tyrol's highest waterfall. The wonderful view stays with you as you cycle over wide tracks and narrow, steep trails. The destination of this tour, Fragsburg waterfall, is tucked away in a cleft in the valley behind Fragsburg Castle. You can reach it via a hiking trail surrounded by apple orchards.
On the return journey, you descend via Freiberg and Castel del Gatto/Schloss Katzenstein to the Sinich–Schenna bypass road. At the end of the road, take the cycle path to Gargazon.
Mountain bike/e-MTB
Starting from our bike hotel theiner's garten, follow the cycle path towards Meran up to the Sinich exit. Cycle to Rametz Castle, passing in front of the famous Trauttmansdorff Gardens. Turn onto Via Labers and continue toward Fragsburg Castle. Follow the signs to reach Greiter farm at approximately 950 metres above sea level. On the way back, you can follow the same route or take an S1-difficulty trail leading to Sinich.